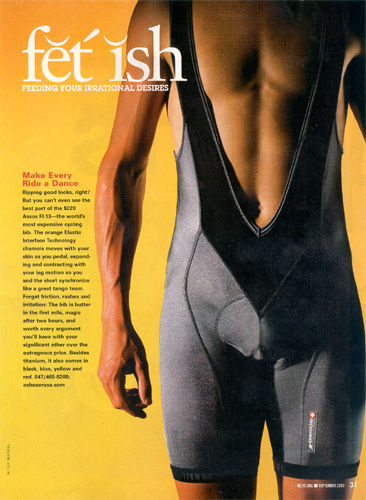 Well, after reading my last post,
Coach Kris
brought his keen insight, experience, and professional knowledge to bear on my arse problem.
Four words:
cycling shorts
chamois butter
DUH!
OK, so that's five words, but I had gotten into the habit of riding only in tri-shorts in part to "toughen up" and in part because I don't like the cycling shorts that I have. It is probably long past time to spring for some new bike shorts. In fact, doing so is probably patriotic: doing my part for the economy.
So, here's the question to you, gentle reader. What are the best, most comfortable cycling shorts in the known universe and the best chamois butter to go along with them? If you ride a bike, weigh in. But, that said, as much as I respect the "woohah," "bajingo" and "vajayjay," I'd especially prize the opinions of those readers who have "junk" that needs to fit down in all that lycra, chamois and butter.
I'm just sayin.