This is the second in a series beginning with my last post in which I wrote concerning the blessings of my own good health and made the claim that anyone could find themselves in the same place.
At the end of this post, I'm going to tell you a dirty little secret about Ironman. But let's start at the beginning. The starting place is that it takes a very special kind of person to be a triathlete--or does it?
Look around you carefully, and I bet you can start to pick out the triathletes from amongst your neighbors. We have things in common, we triathletes.
If you see him in your neighborhood, he's probably a middle aged guy like me having a temper tantrum with Father Time and wanting to feel like he's immortal and forever young and vigorous.
Or maybe not. He could just as easily be a she--a brave, confident and headstrong girl (i.e., woman) in her late 20s who has been stewed in post-Title IX sports participation and told by her parents that she can do and be anything she wants. And when she's at her best, she believes them.
Or maybe she's over 50 and started road racing back before marathons had 30,000 participants, and she runs fast because that's the way it was done back in the day. Or she might even be a nun who is 75+.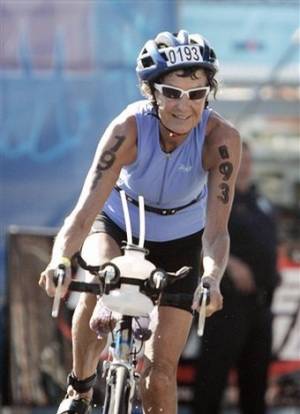 Or the former governor of South Dakota.
But he probably has 2 or 3 $10,000 custom bike in the garage with power meters and carbon everything that he rides every weekend out in the Hill Country or on Peak to Peak Highway.
Or maybe not. He/she could just as easily be on a road bike with clip on handlebars in a group ride on weekends and spin classes during the week.
He/she might even be doing brick workouts by riding loops around and through the neighborhood to avoid drive times to the country that would take more time away from family.
But certainly he's shaved down and wicked fast and vainly gazes at his perfect body in the mirror while eating his organic free range everything and downing supplements.
Or maybe not. He/she could just as easily be fond of the occasional pizza and beer and hasn't touched anything other than a multivitamin. The significant other seems pleased with the appearance, and that is counted as good enough.
His/her body might not be perfect at all. She might have one leg.
Or he might have no legs.
Or he might be blind and unable to gaze into a mirror at all, let alone race without a sighted companion.
But you can count on this type of person to be independently wealthy or voluntarily poverty stricken in order to train 30 hours a week at the expense of family, friends and relationships of all kinds.
Or maybe not. He/she could just as easily be an early riser or figures out some other way to train when it is hard and inconvenient so that family life goes on.
So, yeah. These triathletes all have something in common. They have lots of time to train, or are very busy. They have perfect bodies or are (to borrow an pejorative term) "crippled." They diet strictly or not really at all. They are consumed by the sport or do it as a hobby. They are fast slow and middle of the pack. They have lots of money and flash equipment, or just an entry level bike and borrowed wetsuit.
And yet they are the same in one crucial respect. They have made a choice.
Whatever barriers to participation exist, and all of them have barriers, they have made a choice to push through. They choose to do and choose to be.
And the dirty little secret of Ironman? Anyone can do it. That's good news.
Or is it? Watch this space for more later.